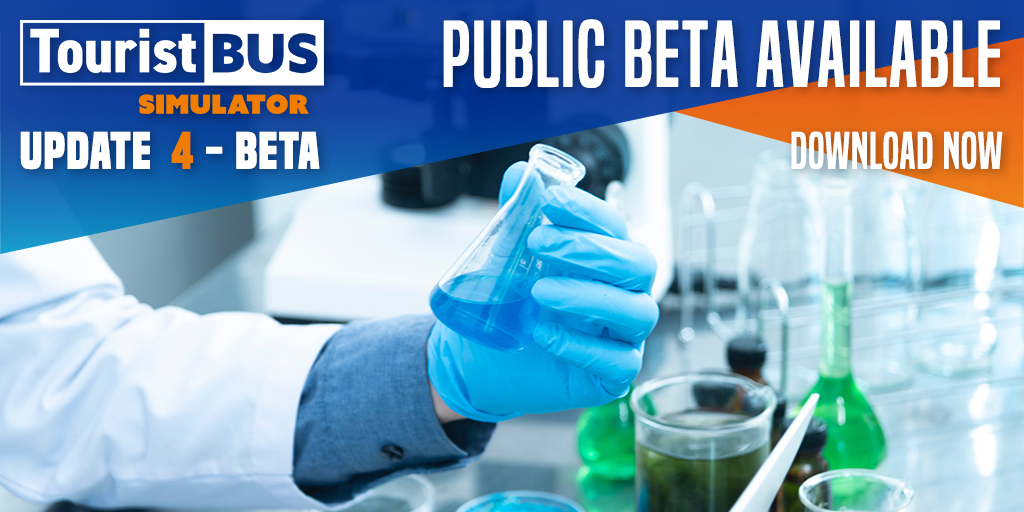 For Update 4 we have optimized a lot to get better performance. We hope that your PC systems will also benefit from this new update. In addition, we redesigned the physics of driving and vehicle sound systems to enhance the feeling of driving a large vehicle and make it more believable. Both of these changes, optimization and physics of driving, have been implemented based on your requests. Thus, we are looking forward to your feedback.
Please note that you can adjust the tilt of the vehicles in the options menu, see screenshot.
Nevertheless, we advise you to be careful at first to get used to the new behaviour of vehicle physics. Professional bus drivers in real life make it seem easy to drive buses, but the control of these large vehicles also requires a lot of skill, sensitivity and anticipatory driving around curves, serpentines and bottlenecks without any problems in our simulator too.
Detailed information can be found in the Changelog below.
ATTENTION: This is a BETA Update. Please note that this version can cause technical problems and/or may cause instability of your computer system.
How to install the beta version of the update?
Quite easily:
In your Library, you click with the right mouse button on the entry of the "Tourist Bus Simulator"
In the drop-menu, you click on the entry "Properties"
In the window "Fernbus Simulator - Properties" you select the tab "BETAS"
In the field "Select the beta you would like to opt into:" select the entry "beta-"
Now you can close the window and the beta version of the update should download right away
After downloading the update you can start the Tourist Bus Simulator via the "PLAY" button
In the main menu should now be the corresponding version number of the beta version of the update and you can test the update
---
---
Changelog - 1.4.27190
- Optimized performance
- MAN Lion's Coach: Revised driving physics and sound system
- MAN Lion's Coach C: Revised driving physics and sound system
- Fixed a bug in the calculation of air resistance
- Backward rolling in neutral (N) fixed
- Force calculation of the wheels on edges like curbs fixed
- Shifting the gear transmission has been updated
- Some vegetation imposter materials updated for an improved visual look and better performance
- Fixed MAN Lion's Coach C not appearing as parking bus
- The radio in MAN Lion's Coaches now fades out correctly the further you get away from the vehicle.
- New advanced audio options for volume levels of engine, turn signals, retarders, announcements, etc. added
- Maximum volume of turn signals increased
- In certain circumstances, passengers complained about a supposedly inactive WIFI
- The distance calculation in the tachograph has been corrected
- Added option to disable the visibility of the steering wheel
- Busses are pumping/jumping/bouncy
- A/C supposedly too cold when driving out of a bus stop
- Mouse Control (Middle Mouse Button) usability updated and some minor bugs fixed
- Street lanterns and AI car lights turn their lights on too late in the night, and vice versa
- Very rare traffic manager bug causing the performance to drop significantly and permanently for the duration of the current session
- Light flares of certain light sources seen through the vehicle's windshield are not being displayed correctly
- Misc. level art and vegetation fixes
- and other minor fixes
- Preparations for DLC MAN Lion's Intercity
DLC Neoplan Skyliner
- Revised driving physics and sound system
DLC ComfortClass HD
- Revised driving physics and sound system
- Dashboard display fixed
- Stop Brake On/Off do not work properly
DLC VDL Futura FHD2
- Revised driving physics and sound system
- Bodywork can now get dirty
- Gearshift can now be controlled via hotkeys
- Passengers on certain seats can now be counted correctly after a rest
- Fixed warning sounds with the luggage hatches open
- Fixed collision of the player with the vehicle's doors
- Animation of the driver's window fixed
- Timing of the sounds of both two doors when closing fixed
Changelog 1.4.27300
- Passengers not boarding the vehicles has been fixed
Changelog 1.4.27331
- Korean localisation fixed
- Japanese localisation added
- Added option to disable TrackIR or other Headtracking devices (only visible if a Headtracking device is connected)

Changelog 1.4.27365
- Preparations for new features
- Minor fixes