Update 5 BETA for Tourist Bus Simulator is now available!
Play performance and lighting systems have been optimized, the repaint function has been restored and the reading light problem in the MAN Lion's Intercity has been resolved.
You can find the complete changelog down below:
ATTENTION: This is a BETA update. Technical problems, instability of the game as well as bugs during gameplay can be possible.
How to install the beta version of the update?
Quite easily:
In your Library, you click with the right mouse button on the entry of the "Tourist Bus Simulator"
In the drop-menu, you click on the entry "Properties"
In the window "Fernbus Simulator - Properties" you select the tab "BETAS"
In the field "Select the beta you would like to opt into:" select the entry "beta-"
Now you can close the window and the beta version of the update should download right away
After downloading the update you can start the Tourist Bus Simulator via the "PLAY" button
In the main menu should now be the corresponding version number of the beta version of the update and you can test the update
---
---
Changelog 1.5.28387
Optimized performance
Updated lighting system
Fixed the vehicles not showing up in the repaint feature
Landscape materials and texture updated
Sound priority of Engine and Retarder sounds fixed
Interaction Markers were not visible through SUV windows
Final preparations for free vehicle DLC
DLC MAN Lion's Intercity
Passengers complain about non-active reading lights although the vehicle has none
---
---
Changelog 1.5.28559
Windshield refraction bug fixed
Some minor level art updates in the world, cities and roads
Main menu and loading screen images updated
---
---
Changelog 1.5.28716
Optimized performance
Shadows updated
---
---
Changelog 1.5.28792
• Some crashes on game start and during game sessions fixed
• Refraction artefact on MAN Lion's Coach windshield fixed
---
---
Changelog 1.5.29097
Some crashes on game start and during game sessions fixed
Refraction artefact on MAN Lion's Coach windshield fixed
Update graphics of dirt roads
Added a dirt road to additionally connect Esquinzo to the highway
To get the full experience of our implemented distance fields, please set your game shadow quality to "high" or more: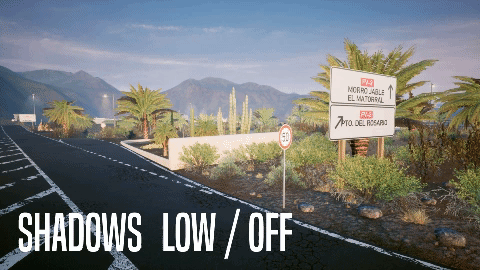 ---
---
Changelog 1.5.29349
Fixed a crash with savegames from previous versions
Fixed a bug in the navigation's route display
Vehicle no longer receives damaged at Costa Calma coach-wash
Final preparations for free DLC BB40