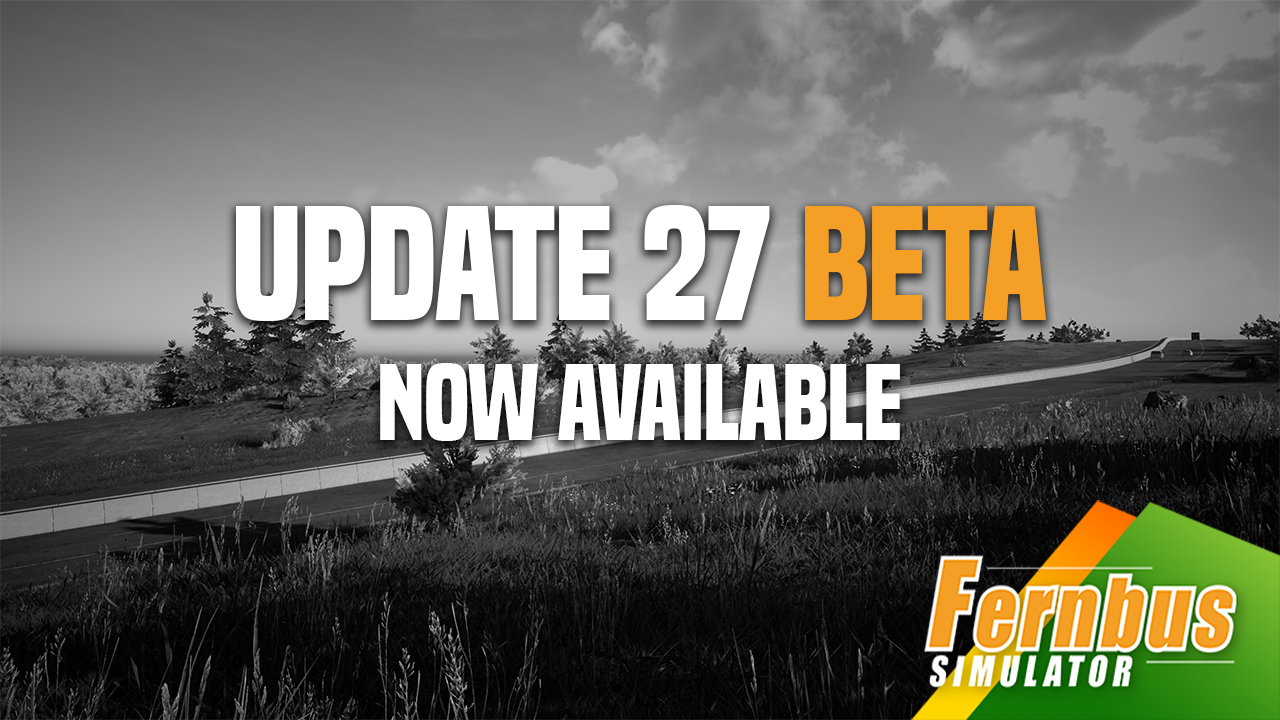 A new BETA version for Fernbus Simulator is available!
A camera pan when changing cameras has been added, various incorrect street signs and speed limits have been corrected, and a number of other bugs have been fixed. You can find the complete changelog here:
-------------------
ATTENTION: This is a BETA update. Technical problems, instability of the game as well as bugs during gameplay can be possible.
How to install the beta version of the update?
Quite easily:
In your Library, you click with the right mouse button on the entry of the "Fernbus Simulator"

In the drop-menu, you click on the entry "Properties"

In the window "Fernbus Simulator - Properties" you select the tab "BETAS"

In the field "Select the beta you would like to opt into:" select the entry "beta-"

Now you can close the window and the beta version of the update should download right away

After downloading the update you can start the Fernbus Simulator via the "PLAY" button

In the main menu should now be the corresponding version number of the beta version of the update and you can test the update
-----------------
Changelog 1.27.37548
A certain crash has been fixed
Fixed lag when changing radio stations
Optimized streaming in certain circumstances
Corrected wrong road signs
Fixed incorrect speed limits
Fixed passenger "moonwalking" during disembarking
Camera pans when changing cameras for all vehicles added
Corrected wrongly placed bus stops near Munich
Corrected wrongly placed passengers in Halle
MAN Lion's Coach 2nd Gen: Wheels now can have either hubcaps or rims
Focal distance in photo mode has been adjusted
Various collisions corrected
Corrected parts of Spanish translation
Bug fixes
Football Team Bus
Logo corrected for MAN 2nd Gen
VDL Futura FHD2
Mirrors fixed
New configuration options: regular mirrors or mirror cameras and monitors, as well as rims or hubcaps
Better view to the dashboard
-----
Changelog 1.27.37873
Performance optimization
AI corrections
MAN 2nd Gen: Fixing of the right mirror
Bug fixes
VDL Futura FHD2
-----
Changelog 1.27.37988
Performance optimization
Symbols above passengers have been adjusted
Man Lion's Coach 2nd Gen: Texture of the wheels corrected
Snowflake size decreased
Fixed missing windows on AI coaches
Bug fixes
VDL Futura FHD2
Fixed side mirror reversal of right camera monitors