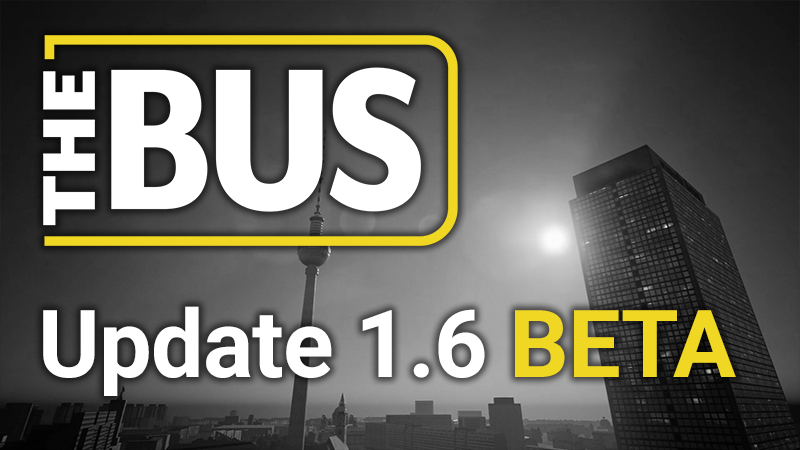 Update 1.6 of the Early Access of The Bus is now available as BETA for testing.
Various corrections to the level graphics have been implemented, the observation camera system has been revised and the interval time in the timetable menu has been set to a maximum of 60 minutes instead of 30 minutes. We also fixed a rare bug where the bus would be unable to start driving.
For the full detailed list of changes, please, see the changelog below.
---
Please create backup copies of your savegame files before switching to the EA BETA Update. Savegames may not be compatible with the new version of the game.
---
ATTENTION: This is a BETA update. Technical problems, instability of the game as well as bugs during gameplay can be possible.
How to install the beta version of the update?
Quite easily:
In your Library, you click with the right mouse button on the entry of the "The Bus"
In the drop-menu, you click on the entry "Properties"
In the window "The Bus - Properties" you select the tab "BETAS"
In the field "Select the beta you would like to opt into:" select the entry "beta-beta"
Now you can close the window and the beta version of the update should download right away
After downloading the update you can start The Bus via the "PLAY" button
In the main menu should now be the corresponding version number of the beta version of the update and you can test the update
---
Changelog 0.10.43934 EA Beta
Performance optimisations on streaming levels**
Fixed shadow artefacts
Fixed route select left arrow button not being clickable
Various level art fixes
Fixed another crash when opening the feedback reporter
Set timetable menu route interval time to max 60 minutes instead of 30
Added line name to savegame info
Auto-saves added to savegame menu (only works with new saves)
Observation camera system overhauled
Fixed observation camera freezing in frame
Fixed observation camera doubling up in certain situations
Improved cross selector performance**
Level streaming bounds optimized
Fixed a rare bug where the bus would be unable to start driving
Some passenger behaviour fixes
Passengers now start leaving the bus when you reach the stop
Mouse control now holds the current input when it is paused
Fixed inaccuracy with the Scania Citywide door buttons
UI updated to better handle lines with a lot of stops
Changelog 0.10.44062 EA Beta
Fixed grainy noise effect on many textures
Added Alternative Mouse Control UI
Steering Wheel now uses the correct Rotation when using Mouse Control
It is now possible to modify Mouse Control Inputs similar to other controls. You may need to Reset your Controls to see this Option
Fixed Door Wing Locking
Fixed Crosselector door selection not moving
Fixed Bus getting stuck if only the simple engine was selected
Fixed Animation of Flags
Traffic Light Shader improved
Fixed Map dragging lag
Improved Level Streaming Performance**
Changelog 0.10.44254 EA Beta
Fixed some weird artefacts in the distance (Level LODs)
Fixed some bugs in the main menu
Improvements in passenger behaviour
Fix Scania Citywide's matrix display brightness*
Matrix Display Shader improved
Fixed Scania Citywide 12M rear windows not matching frame*
Fixed Scania Citywide 12M middle door window glass not matching frame*
Fixed a crash when the schedule is opened in the pause menu and sending ticket via F1
Fixed bus stops not being clickable in the in-game editors when a controller device was connected*
Changelog 0.10.44419 EA Beta
Added frame rate limit option to graphics settings
Standing bicycles with no physics have been fixed
Fixed passengers sitting outside the vehicle*
Fixed passengers being stuck in the front door area*
Passenger improvements
Changelog 0.10.44440 EA Beta
Fixed a crash
Fixed menu buttons sometimes not being visible in the main menu*
Fixed passengers sitting outside the vehicle (again)*
Compatibility update for Intel Alder Lake CPUs
Changelog 0.10.44613 EA Beta
Vehicle shaft inertia and wheel friction updated
Fixed passengers sitting outside the vehicle*
Fixed embarking passengers being stuck in the front door area*
*Only occurred during the BETA test of this update
** Please, be aware that the impact of performance optimisations varies from system to system due to hardware configurations, installed software, and other programs running in the background