English translation see below
Hallo zusammen,
Nach langer Zeit gibt es wieder etwas Neues: Chris (UndergroundBerlin), Jonas (joni96), Communitymitglieder und ich arbeiten seit längerer Zeit an einer Modifikation, die es erlaubt Ansagen im jetzigen Teil von WOS einzubinden.
Eins vorweg: Die Ansagen sind nicht original, aber es lassen sich verschiedene Ansagen von Dritten einbinden, mehr dazu später.
Die Modifikation hat eine einzigartige Bedienung, zwar läuft die Modifikation im Hintergrund und erwartet eure Eingaben, jedoch haben wir uns etwas Besonderes einfallen lassen, was es in dieser Art noch nicht gibt und ein interessantes Bedienungskonzept hat:
Die Ansagen werden von einem beliebigem Gerät, sei es ein aktuelles Smartphone oder Tablet, gesteuert. Es wird keine App verwendet, sondern euer Spiele-PC wird in eurem lokalem Netzwerk in einen Server umgewandelt, der ein Dashboard bereitstellt, dass ihr von eurem beliebigem Gerät aus aufrufen könnt.
Kurzum: Ihr steuert die Ansagen ¨ber ein Dashboard vom Handy ab, der PC worauf WOS4 läuft erledigt den Rest. Alternativ lassen sich auch die Ansagen automatisch oder manuell nach Fahrplan abspielen. Wir werden euch dazu verschiedene Möglichkeiten zur Abspielung der Ansagen geben:
Steuerung über Dashboard
Im Dashboard habt ihr die Möglichkeit euch beliebige Ansagen selbst auszuwählen und abzuspielen.
Alle Ansagen stehen euch zur Verfügung und lassen sich optional erweitern.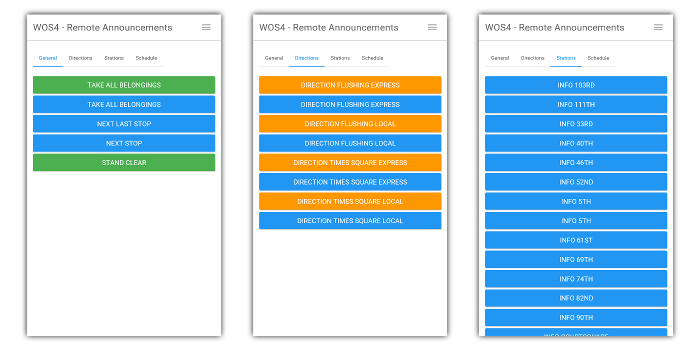 Manuelle Fahrplanauswahl
Alternativ habt ihr auch die Möglichkeit traditionell einen Fahrplan auszuwählen und manuell die Ansagen vor- oder rückwärts abzuspielen, ihr könnt euch demnach linear nach dem Fahrplan richten, den ihr ausgewählt habt.

Automatische Ansagen nach Fahrplanzeiten
Falls euch die vorherigen Optionen nicht ansprechen, besteht die Möglichkeit die Ansagen automatisch abzuspielen. Ihr könnt euch rein auf eure Fahrten konzentrieren, solange die Modifikationen im Hintergrund die Ansagen abspielt.
Ihr beginnt mit den automatischen Ansagen sobald ihr kurz von der Anfangsstation abfährt, ihr dürft keine Verfrühungen oder Verspätungen in Kauf nehmen, da die Ansagen nach originalen Ankunftszeiten und unabhängig von WOS4 abgespielt werden.

Wir möchten ab heute eine sehr frühe Vorschauversion von der Modifikation veröffentlichen. Unser Plan ist, dass wir auf euer Feedback hören und je nach Interesse die Mod erweitern. Es wäre zum Beispiel geplant, dass man die Auswahl zwischen mehreren Ansagenpaketen hat (die übrigens Chris real aufnehmen würde), eigene Fahrpläne erstellen kann und einen umfangreichen Editor für eure Erweiterungen anbietet. Falls ihr darin interessiert seid, werden wir das Programm nach euren Wünschen anpassen und erweitern, aber zu aller Erst möchten wir euch einen Einblick in den jetzigen Stand gewähren.
Wir hoffen, dass wir nichts vergessen haben und ihr Spaß an der Modifikation habt. Feedback könnt ihr gerne hier, im Forum oder auf Steam mitteilen. An dieser Stelle danken wir auch den Moderatoren und allen Communitymitgliedern, die fleißig mitgeholfen haben.
Download: http://gino.ftsoftware.eu/project/wos4ras/#download
Steam Community Gruppe: http://steamcommunity.com/groups/wos4ras
Hier ein Video von Jonas, das die Ansagen In-Game demonstriert.
Content embedded from external sources will not be displayed without your consent.
Through the activation of external content, you agree that personal data may be transferred to third party platforms. We have provided more information on this in our privacy policy.
Changelog:
Version 1.5.0 (04.07.2015)

Neue Routen:
- Main Street > Times Square, Local
- Main Street > Times Square, Express
- Times Square > Main Steet, Local
- Times Square > Main Street, Express
"Next Stop" ist nun in jedem Tab vorhanden
Local, Express und allgemeine Stationsansagen im Tab "Stations" sind nun separat gruppiert
Eine alternative IP Addresse lässt sich nun auswählen
Logger wurde ausgebaut
Version 1.4.0

Updates lassen sich innerhalb der Anwendung suchen
Hilfelink eingefügt
Anzeige des aktuellen Fahrplan
Hilfreiche Meldungen
Anwendung bestimmt, ob es als Administrator ausgeführt wird oder nicht, und startet ggf. neu
Absturz beim Start behoben
Interne Änderungen
Version 1.3.0

--
Hey folks,
we reckon, it's been a while since we brought some news to you. Chris (UndergroundBerlin), Jonas (joni96), several community members and myself have been working on a great project, allowing you to play announcements in World of Subways 4. Quick note: the announcements are not original, but we're allowing several different styles to be imported into the program. This program has a very special and intuitive way to be used. It runs in the background on your gaming machine, and there's a feature that we haven't found anywhere yet:
The announcements can be played from any network-enabled mobile device (smartphone, tablet, etc.). There's no app for that, as it's already installed: all you need is your internet browser. Your PC is used as a server that provides the dashboard UI and can be displayed on the screen of your choice.
To keep it short: you press the announcements button you need, your gaming machine will do the rest. You're able to play announcements automatically or manually following a schedule with several possibilities:
Manual control via Dashboard
Using Dashboard, you can play any announcements from a list. All announcements can be found here and you can also add entries manually to the list.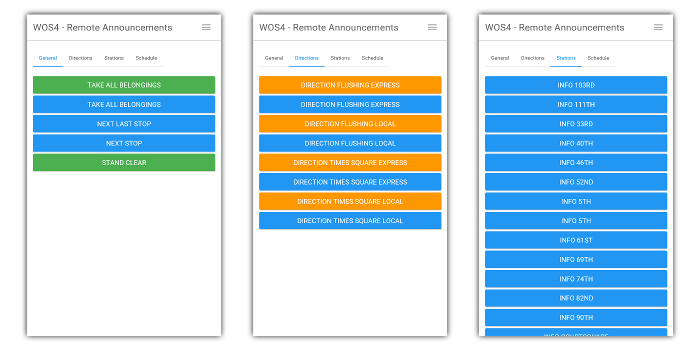 Choosing a schedule
Another possibility is to choose a schedule and manually play the announcements with the corresponding buttons. Nothing further to do.

Automatic scheduled announcements
If you haven't been convinced yet, here's another way to use the program. The program will play announcements automatically in the background, following a schedule. As soon as you depart from the starting station, your start the automatic announcements. Make sure to be on time though, as the announcements will be played, following the schedule timings and are not connected with your actual position in WoS4.

Today, we want to release a very early preview version of the program. We need your feedback, in order to improve and extend it with new features. We're planning to offer a choice of voices, enabling you to create own schedules, and including an editor for your own add-ons. If you guys are interested, we will include the features you want. Be sure to take a look, and give us a lot of feedback. Pass by our forums and Steam to join the discussion. We want to thank all moderators and community members that have helped us to develop this modification.
Download: http://gino.ftsoftware.eu/project/wos4ras/#download
Steam Community Group: http://steamcommunity.com/groups/wos4ras
By the way, I've attached a YouTube video from Jonas which shows the announcements live in-game.
Content embedded from external sources will not be displayed without your consent.
Through the activation of external content, you agree that personal data may be transferred to third party platforms. We have provided more information on this in our privacy policy.
Changelog:
Version 1.5.0 (04.07.2015)

New lines:
- Main Street > Times Square, Local
- Main Street > Times Square, Express
- Times Square > Main Steet, Local
- Times Square > Main Street, Express
'Next Stop' announcement on the same tab screen at all stations
Local, express and general announcements were moved into seperate tabs
Minor UI enhancements
Enabled selection of alternative IP adresses
Updated logger
Version 1.4.0

Check for Updates now in Quickactions
Help button in Quickactions
Display for manual and automatic current schedule
Helpful dialogs
Application will detect whether you are executing it as administrator or not
Fixed crash on startup when running as non-administrator
Internal changes, security fixes
Version 1.3.0