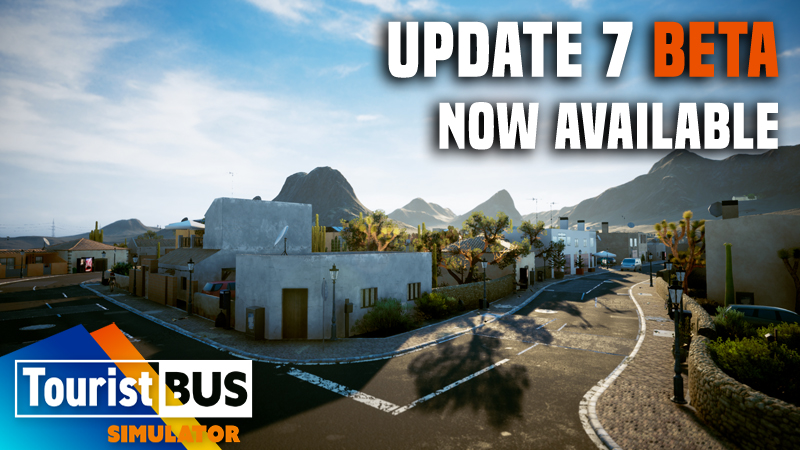 Hey!
Although we said we won't put out two BETAs at the same time, well... unusual times require unusual measures

A BETA version of Update 1.7 is now available for Tourist Bus Simulator. Please note: Again, a new Unreal Engine version is used, so make sure to save your savegames as before.
Have fun, we look forward to your feedback!
Please create backup copies of your savegame files before switching to BETA Update 7. Due to the new engine version, savegames are not compatible between Tourist Bus 1.6 and Tourist Bus 1.7.
---
ATTENTION: This is a BETA update. Technical problems, instability of the game as well as bugs during gameplay can be possible.
How to install the beta version of the update?
Quite easily:
In your Library, you click with the right mouse button on the entry of the "Tourist Bus Simulator"

In the drop-menu, you click on the entry "Properties"

In the window "Tourist Bus Simulator - Properties" you select the tab "BETAS"

In the field "Select the beta you would like to opt into:" select the entry "beta-"

Now you can close the window and the beta version of the update should download right away

After downloading the update you can start the Tourist BusSimulator via the "PLAY" button

In the main menu should now be the corresponding version number of the beta version of the update and you can test the update


---
---
Changelog 1.7.31619
Performance improvements

Corrections to the course of the road north of Puerto del Rosario

More than one high res screenshot can now be taken using the photo mode

Fixed some graphical bugs

Final preparations for new vehicle DLC

Fixed steering errors when exiting photo mode

Added buttons in the main menu that open the TML forum or TML support in the web browser

Added display of active gear in the minimap HUD
DLC BB40
Fixed graphic error in the front lights
DLC MAN Lion's Intercity
Fixed incorrect material allocation of the LODs
DLC Scania Touring
Collision of all variants updated

Fixed the position of the emergency release above the rear door of the Scania Touring 137
DLC VDL Futura FHD2
Fixed a bug in the geometry of the FHD2 148 cockpit
---
---
Changelog 1.7.31641
---
---
Changelog 1.7.31641
AI traffic now correctly checks the collision of all vehicles

Fixed performance issues caused by certain vegetation

The standard repaint can now color predefined components

Fixed other graphical bugs
DLC BB40
Fixed some material allocations of LODs